Sotheby's At Auction: Keith Haring, Hong Kong and California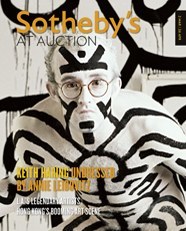 This month's Sotheby's At Auction magazine features artist Keith Haring on the cover. Recognized as a pop culture icon in the 1980s, as well as a pop art figure, Haring's work became inextricably linked with the emerging AIDS crisis. The disease eventually claimed his life in 1990. Now his work is sought out by collectors all over the globe. The At Auction article was written by photographer Annie Lebovitz and tells the story of her famous and iconic portrait of Haring.

Additional articles in this issue include an in-depth look at the thriving Hong Kong art scene and a retrospective of the Los Angeles artists who forged a California-based art movement over the last few decades.
About At Auction
If you have not read At Auction magazine, you are missing out. It is filled with reviews and previews of auctions around the world. It also offers a peak at premiere homes from Massachusetts to Milan and beyond. Stop by our office to pick up a complimentary copy (we have a limited supply and copies are available on a first come-first served basis.) Contact us for more info.